Lesson series
FISU Meditation LGBTQ+ Foundation Course via
an Online Global Cohort
Our Foundation course in Meditation is lead by experienced instructors. There are 10 Live Sessions plus 45+ self-paced lessons.
Our LGBTQ+ Community instructors are waiting to guide and serve you.
In FISU, everyone is equal, and we focus on each person or community's needs across our diversity.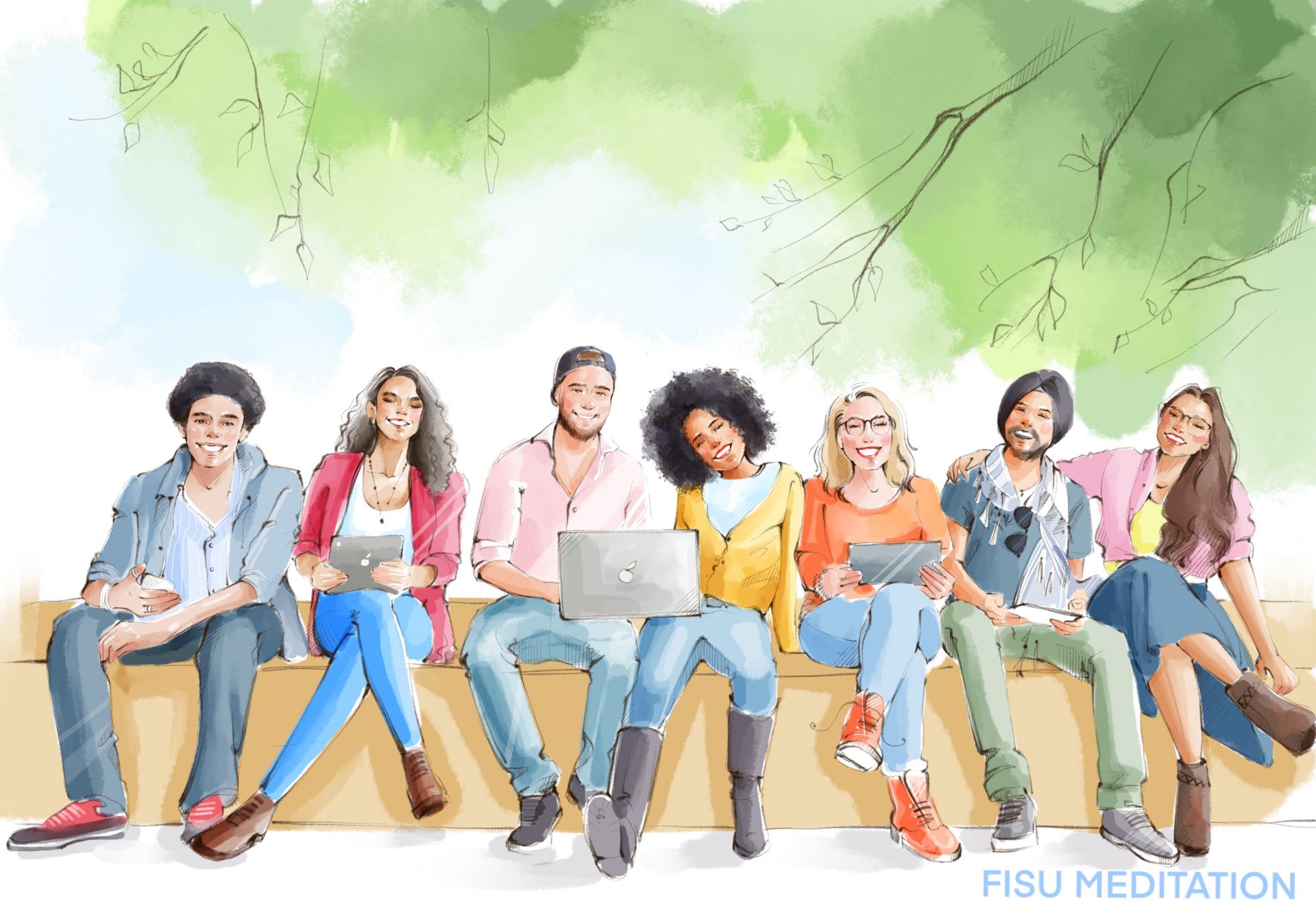 WHAT'S INCLUDED - SCHEDULE OF SESSIONS FOLLOWS
11 Instructor Led Sessions by LGBTQ+ Community Teacher

45+ Self Paced Learning Sessions

Listen, Read, Watch, Practise

Online Academy - Easy to manoeuvre

Mobile App Coming in Q2-2021

24/7 Support
You are in good hands
Our highly qualified instructors will guide you through the course. You have 24/7 support.
Your spiritual health
Our system strengthens your spiritual health which in turn keeps your mental and physical health in balance
WHAT BENEFITS CAN I EXPECT FROM PRACTISING MEDITATION?
Self-Acceptance - loving yourself can only come through acceptance

Coming Out – Gain strength to make it a celebration of your identity

Acceptance - accepting yourself, steering away from guilt and shame

Self-Respect – Learn not to compromise yourself because of insecurity

Accepting those who are homophobic/transphobic and how to deal with negative people and their opinions

Increase Self-Esteem & Confidence – Front prejudice and homophobia
Discrimination – Make better choices for you and your life

Accelerate Cognition – Improve working memory function

Cultivate Compassion & Forgiveness

Sharpen Concentration & Attention Span

Overcome Depression – Meditation is more than effective than medication

Change Brain Structure in 8 Weeks
Overcome Obsessive body-image

Meditate to Create & Multitask

Convert Mind Chatter into Intuition

Reduce Mental & Physical Pain - Meditation reduces pain sensitivity

Natural self healing - never have another stress headache

Enjoy enriching deep sleep
Love – Self Love & Love of others

Sexuality – Celebrate Sex as an offering and not a need

Intimacy & Sex - how to attract real love into your life, breaking down walls of your perceived self

Drugs & Alcohol - how to avoid addictions, using this as a way of escapism for loneliness or disownment

Scene Influences - easier to steer away from "scene" influences

How to avoid addictions, promiscuity and dependencies
MEDITATION FOR MENTAL HEALTH & WELL BEING FOR THE LGBTQI+ COMMUNITY
A short video on the benefits...
COURSE SUMMARY VIDEO
A short video on details of the course......
My life has improved in so many aspects since I started FISU meditation and now find it difficult to imagine my life without it.
Right from the start of the course, the first thing that helped me was to start loving myself and fully accept myself. Most times, we don't want to face ourselves, and we keep pretending that everything is alright, but the days continue with unresolved issues and negative feelings. Meditation helped me see that I was not comfortable with my gay self and was scared to admit and accept it. Understanding and love started to unfold within me, and I was able to accept that I born to be gay and was worthy of love because I could now recognise the love within me.
FISU meditation helped me in respect of my gay life in finding more acceptance of who I am and gave me more confidence in dealing with difficult situations such as homophobic people and more conservative work environments. It helped me be more at ease and in peace in general, not needing to "fight" or "shout" so much about my rights but rather intuitively avoiding or diffusing negative situations. It has helped me be more happy and content in life and less influenced by negative trends in the gay "scene" such as drugs and gossip. In my love life, it helped me with being at ease to express myself with my partner on an equal basis with straight couples.
As
a wom
an of the LGBTQ+ community, I have had to come face to face with myself and learn to accept the person I am today.
From confronting my authentic self and truly accepting who I am, I have always had meditation to help ground me when I have felt overwhelmed and help express who I am to those less able to understand.
Being able to truly love myself for the woman I am - regardless of my identity, or sexual orientation has been one of my biggest challenges in life. Through committed meditation practise, I have overcome struggles which led me to accept and love myself because of the individually prescribed techniques, and the love and guidance from FISU.
FISU is not only a place for those who want to find their spiritual path, but it is for all who have faced challenges within themselves and the world around them.
It is an equal, open and accepting community that has enabled me to keep going even at my most challenging moments and work through personal relationships that have meant so much.
Being members of the LGBTQ+ community, we often have to struggle with being accepted.
Through dedication to practice regular meditation and spiritual practices as taught by FISU, I learned to accept myself and the things I cannot change in others. Through unfolding, you get in touch with yourself, and the world's opinions are of less importance. FISU is a family, where each individual is accepted as they are; background, religion, colour, sexuality are insignificant; we are all equal - everyday people on their path to discover themselves and their connection to others. It is a spiritual trip worth taking; you will ultimately discover that your nothing but alone in this world and that the path of enlightenment is paved with love and acceptance.
Get exclusive news
Get weekly updates on live streams, news and more right in your mailbox.